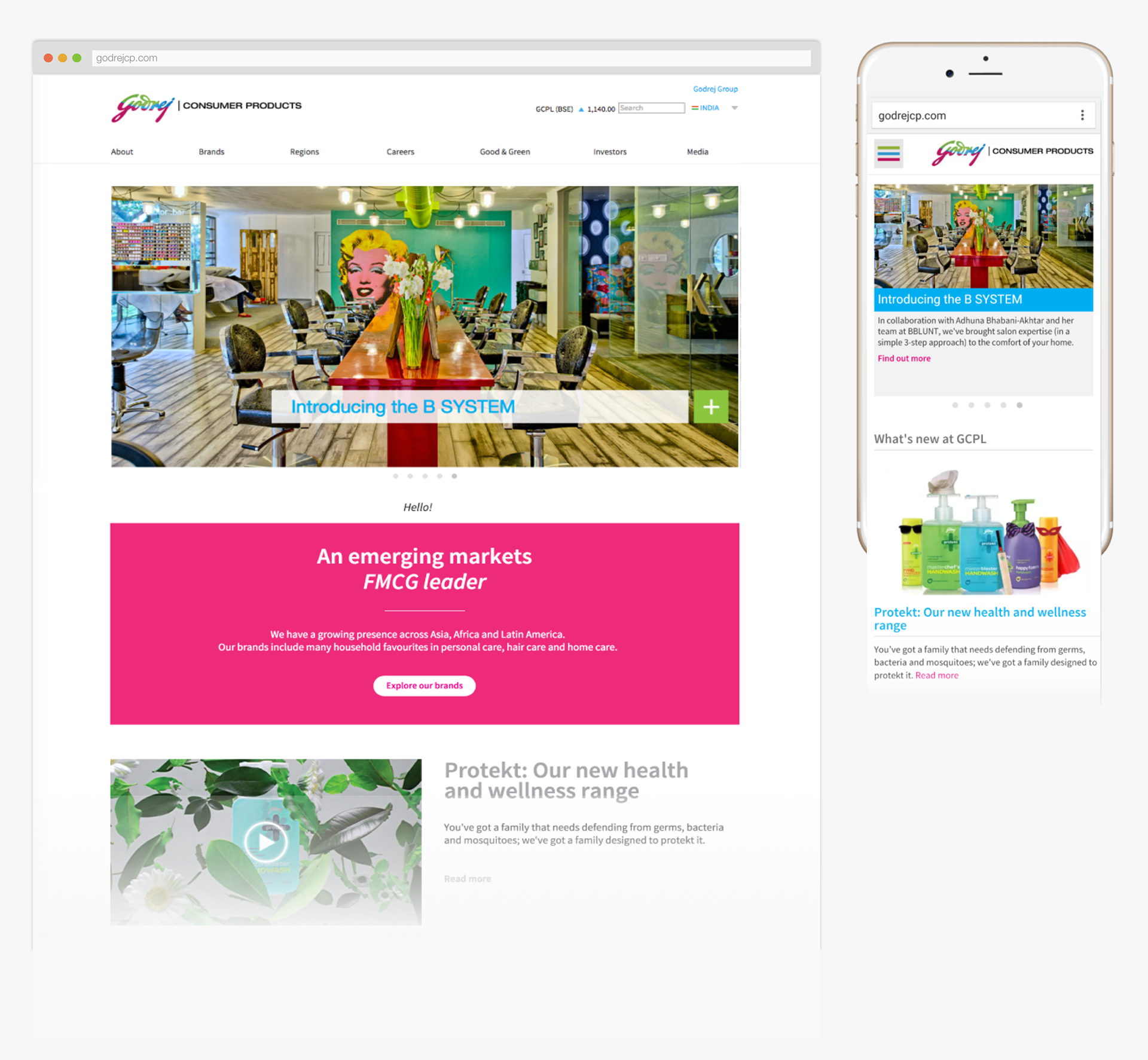 SUMMARY
Goal
Re-design godrejcp.com to address business goals of appealing to a younger audience, spreading information about heritage brands and new brand innovation, highlight the breath of corporate social initiatives, showcase the diverse employee population and a timeline of company legacy.
Result
Duration of project 
2 years (August 2013 - January 2015)
Team
I served as lead designer on a 3 member design team,  2 content strategist, 1 project head, 7+ developers
My role 
•  Created information architecture and UX flows using white boarding and wire-framing and  techniques 
•  Presented UX flows to manager and senior stakeholders to align with business goals
•  Took conceptual ideas for brand aspirations and translated them into design systems for web
•  Collaborated with multiple internal departments (HR, Marketing etc.) to represent them on website
•  Partnered with developers & content strategists to oversee the UX from conception until launch 
•  Provided design and content strategy feedback to peers involved in the project
•  Directed photo shoots for employees and product shots
Results
Reduced page-abandonment rate by 70%. Revamped career micro-site with user-centric, engagement-driven
interactions that increased management trainee recruitment by two-fold in 2015.
Feedback on my work from my manager and design head available on
LinkedIn

Research
Understanding the objective of the rebrand
Godrej Consumer Products is a very well known Indian brand with a 120 years legacy. The management wanted to loosen the traditional "corporate" image to create brand appeal amongst the younger generation of consumers and new talent. 
Establishing Information Architecture
This website contained numerous micro sites for internal-departments like HR, corporate social responsibility and individual product brands. To meaningfully navigate the information and data I instated the use of a dedicated white board to share IA flows and conducted pin-up critique sessions of wireframes to gather feedback. This process greatly helped align objectives and define UX flows with the diverse teams we collaborated with including our developers. Our team collaborated across 9+ different teams to realize this project.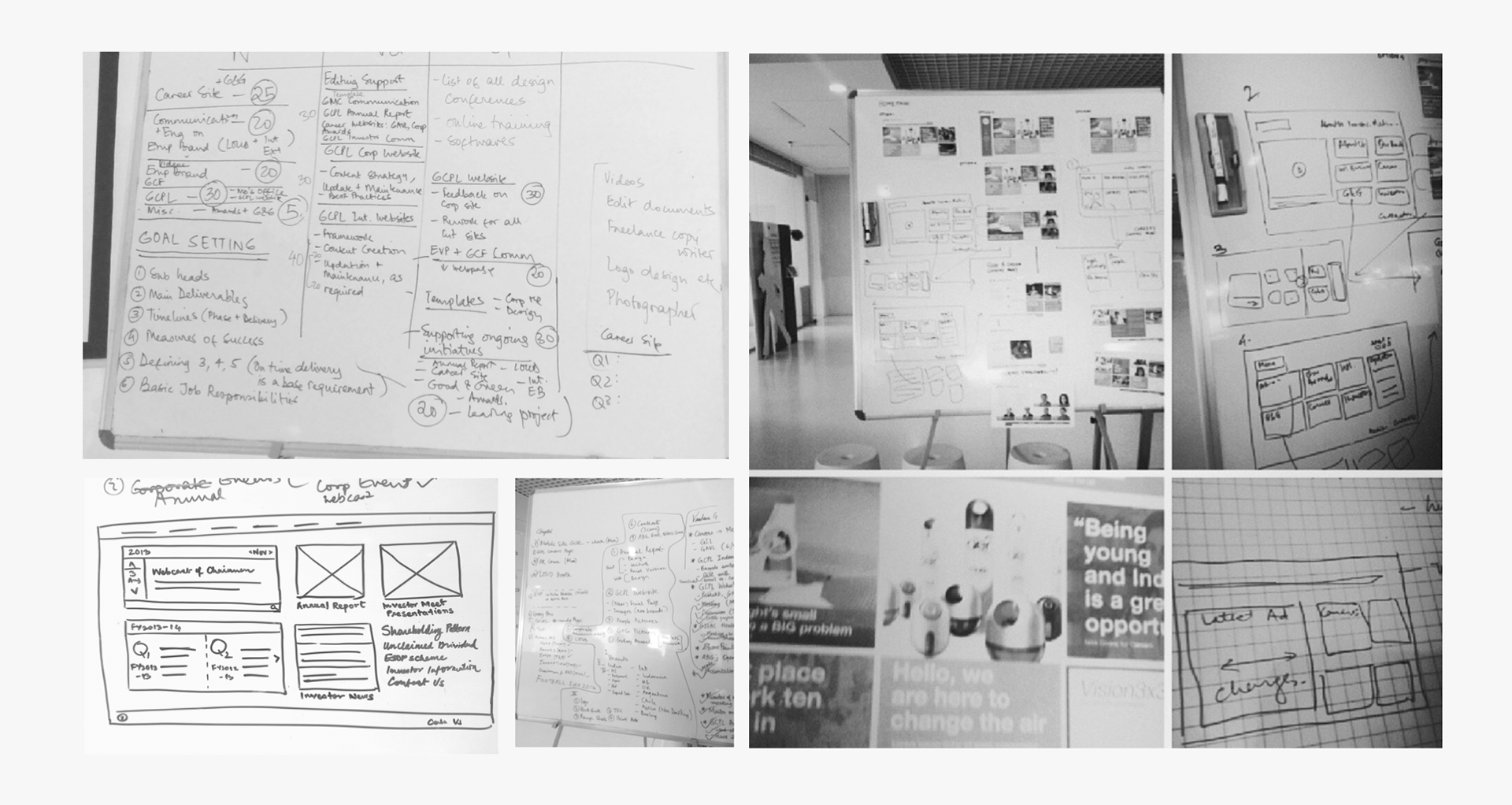 Current state of website & Competitive Analysis
We did an in-depth analysis of the godrejcp.com website as it stood when we first started the project. To determine the tone, strategy and scope of the project. We meticulously created the presentation below analyzing competitors and setting benchmarks like
P&G India
 and 
Hindustan Unilever
 etc.  We presented our insights to senior stakeholders in order to align expectations and introduce our strategy.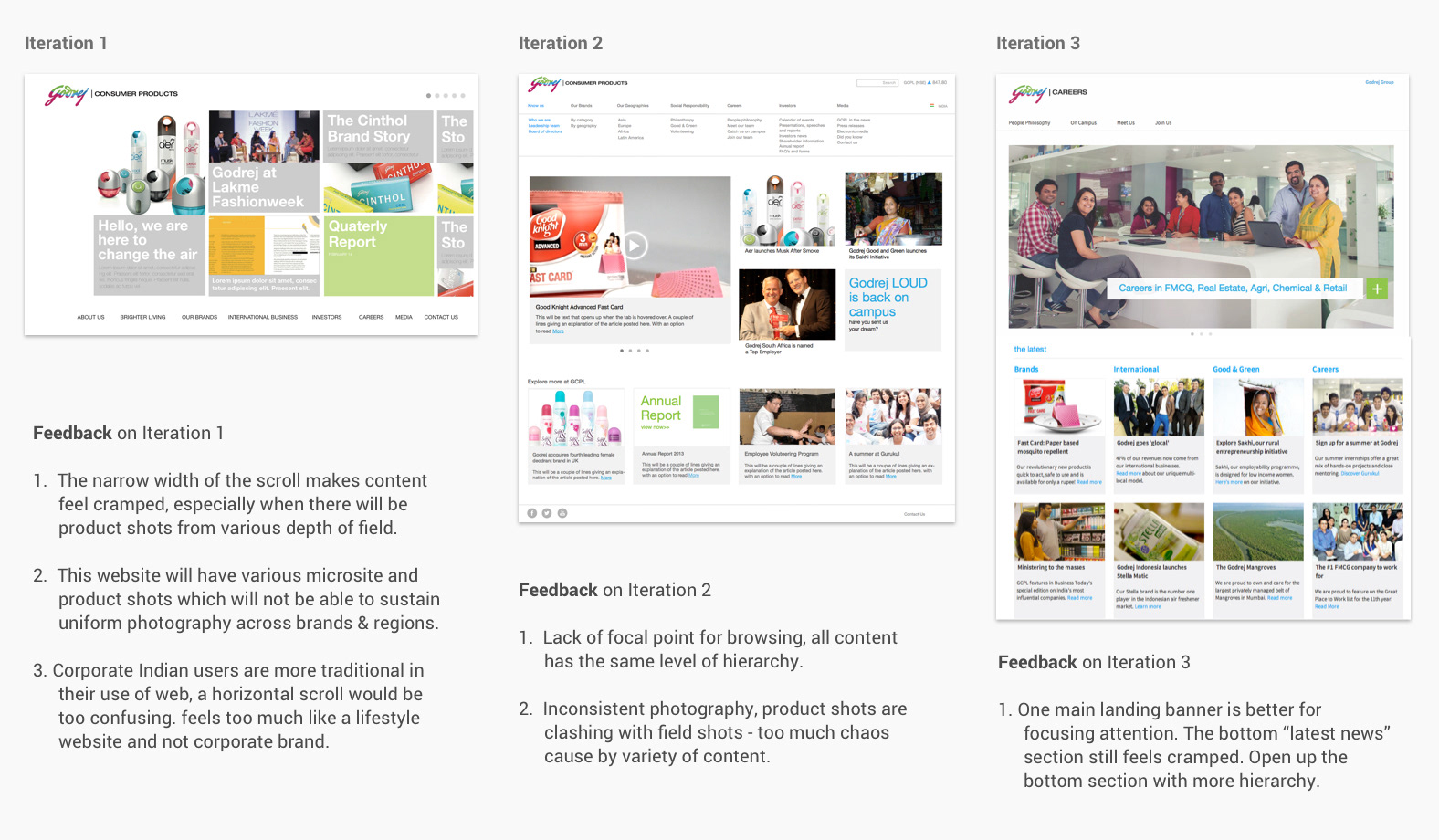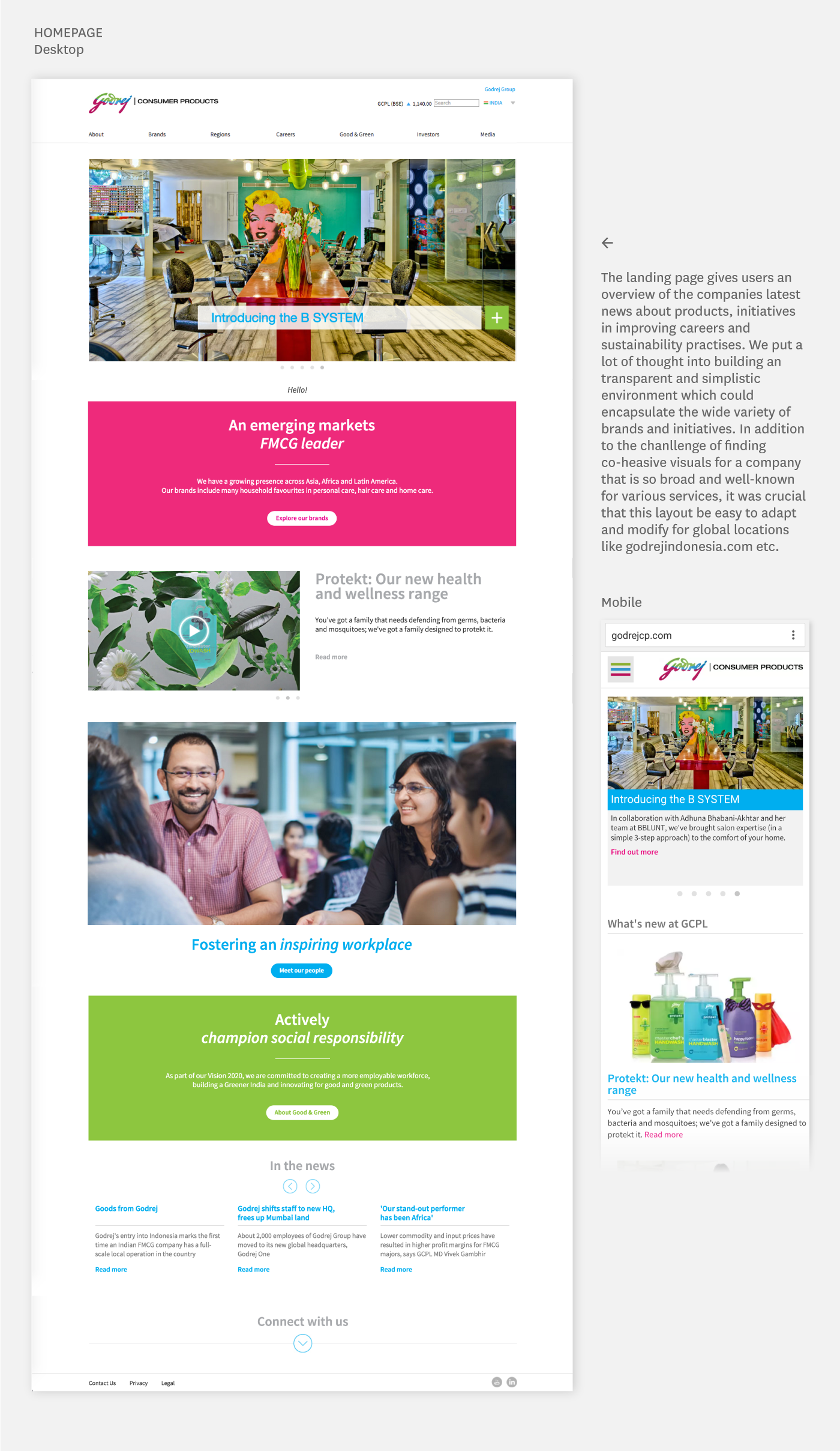 Extending the design system for unique scenarios
The vastness of the company's presence in over 60 countries needed to be listed on the website in an expressive way. The Regions page is was revised multiple times to arrive at this solution which makes the information more browsable but also maintains the overall visual style of the website.
Iterations on Regions Page Design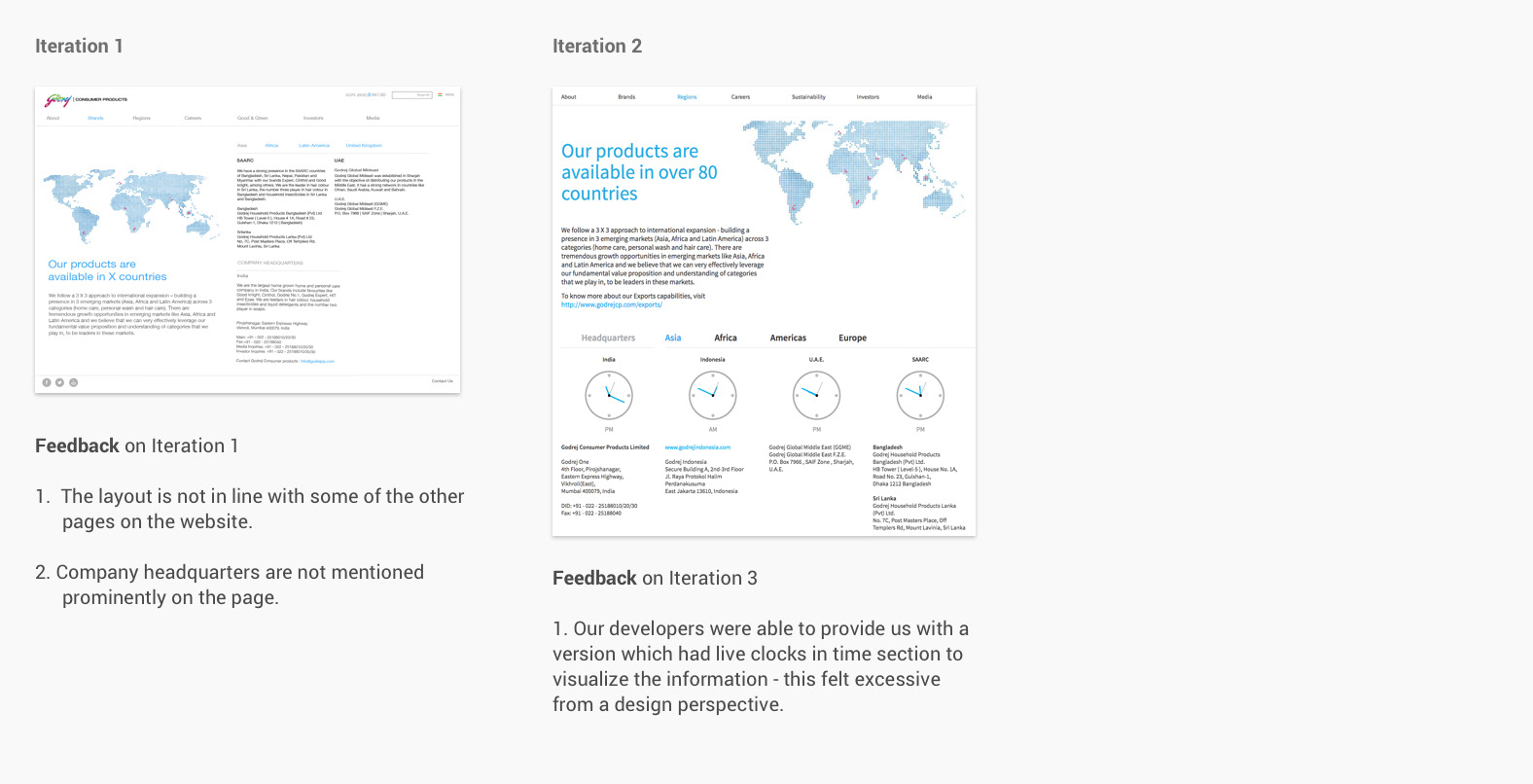 Final Regions page design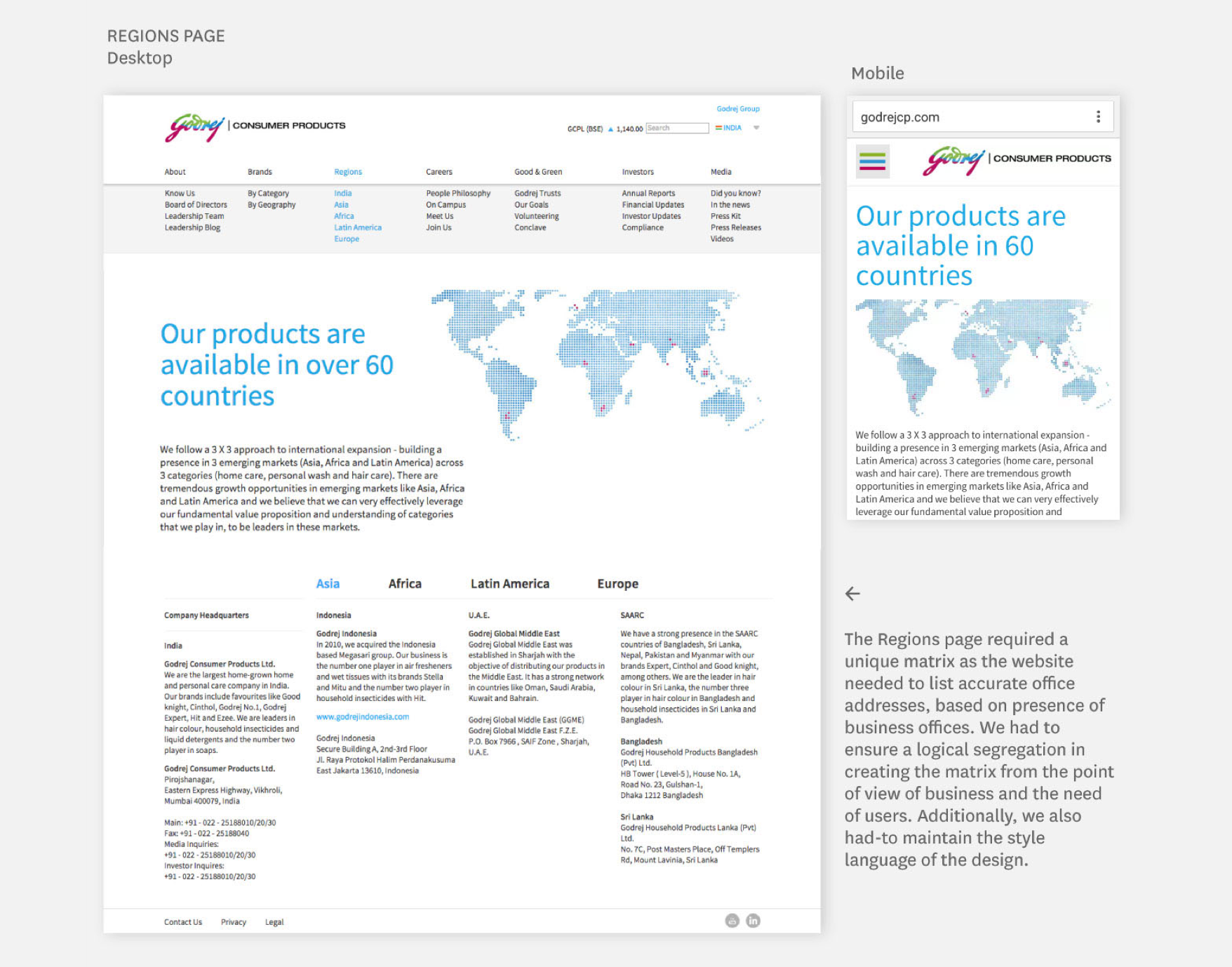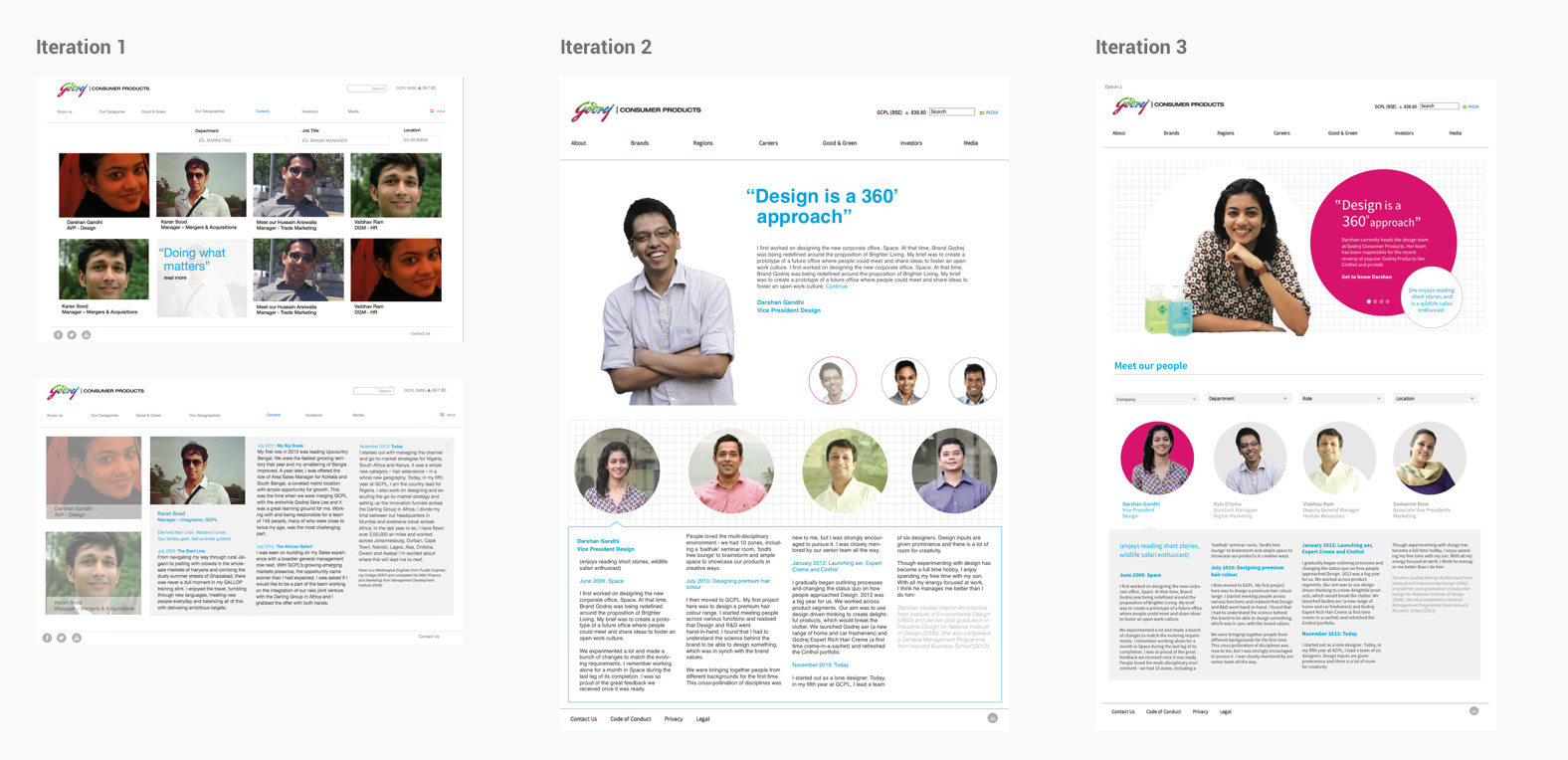 Final Meet our employee page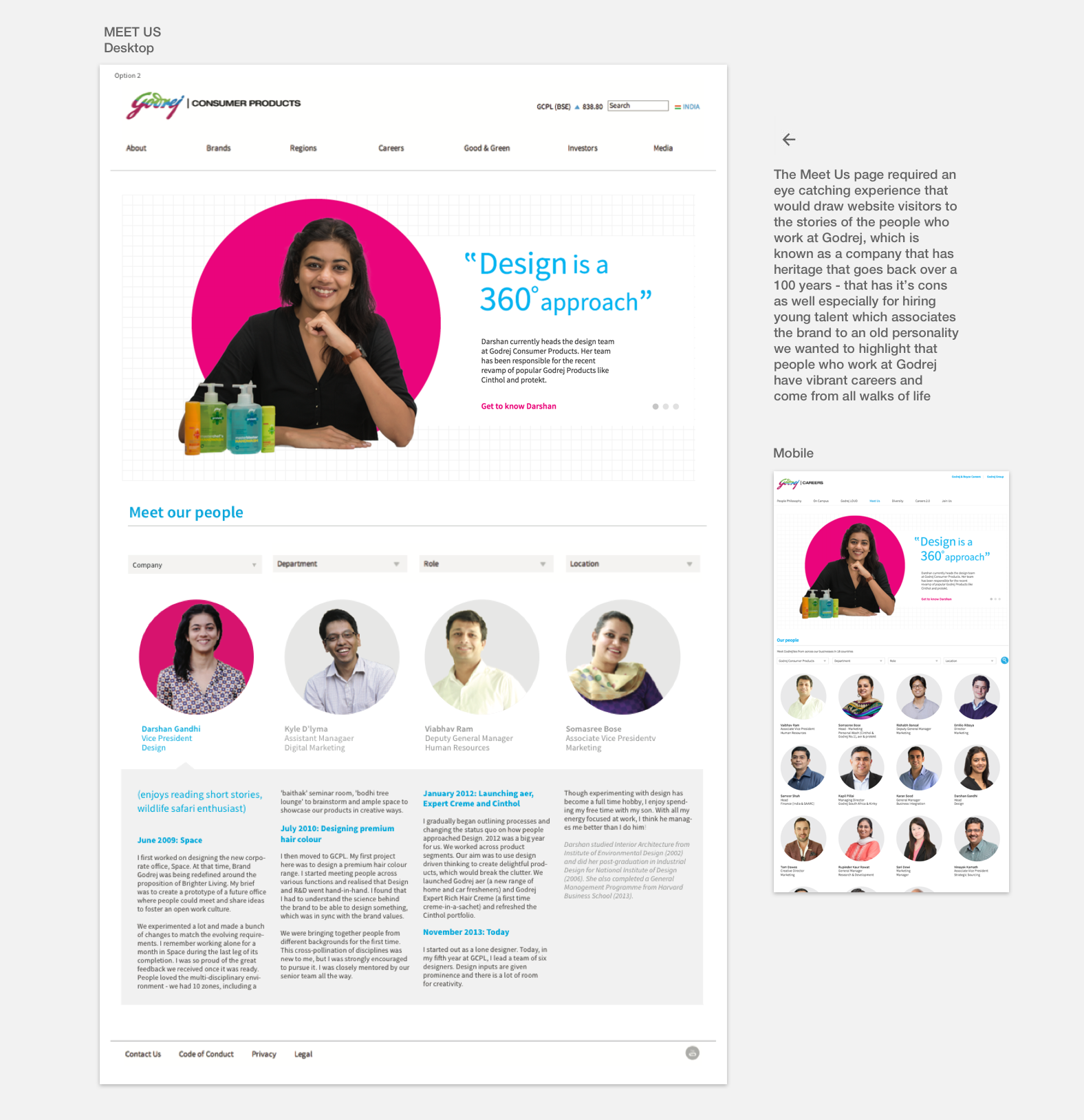 Development Team
Collaborated on an elegant navigation solution with the Dev Team
The solution for this nav bar was a true collaboration between the web developers and the design team. Due to the size of the corporation there were a large set of options for each nav item, additionally we needed a solution that would nest away the options neatly. We arrived at this solution after modifying inspiration from a few other websites and then working in our own sliding animation.  Through out weekly meetings discussing possible modifications to a growing site in tandem with feedback from internal users we were able to arrive at a novel navigation solution that didn't overpower the website header. 


DESGIN SYSTEM
Brand Style Refresh
A brand system refresh was created to reflect the company in a younger yet sophisticated way – 100 plus year heritage of the company needed the attract young professionals, investors and consumers. Live style guides were created in order to test the variations with multiple engineering teams about how the design system worked.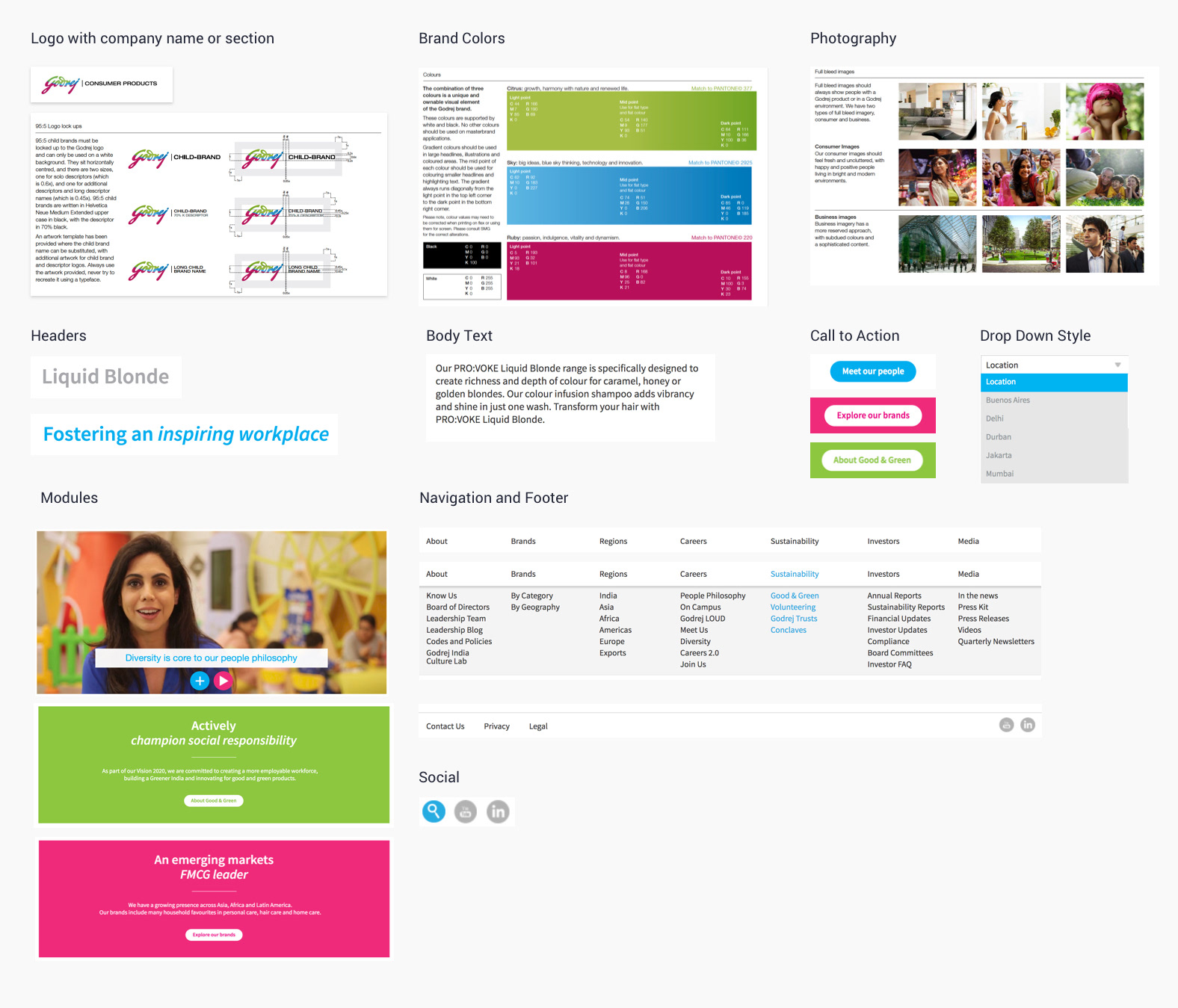 Adapting design system for multilingual audiences  
Godrej has a presence in over 60 countries and many regions have distinct audiences. I created design guidelines for adaptation of the website for International audiences by assigning new hierarchy schemes and adapting websites for multi-language localization as well.
Eg.
Godrej Indonesia (Bahasa)
​​​​​​​
DESIGNed FOR MOBILE

Its design development was started midway through the desktop counterpart, after close consideration we realized that having a mobile site was vital because: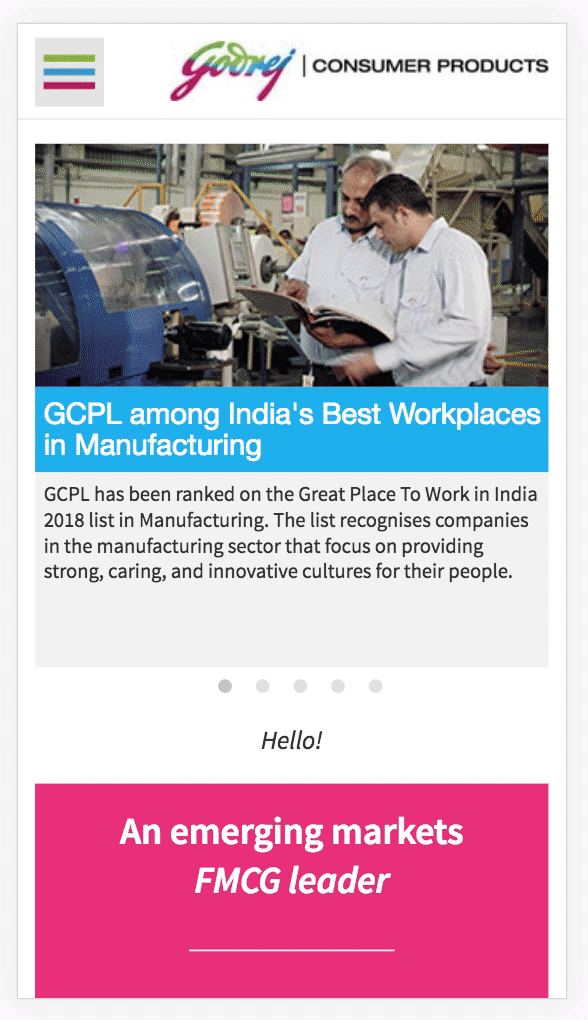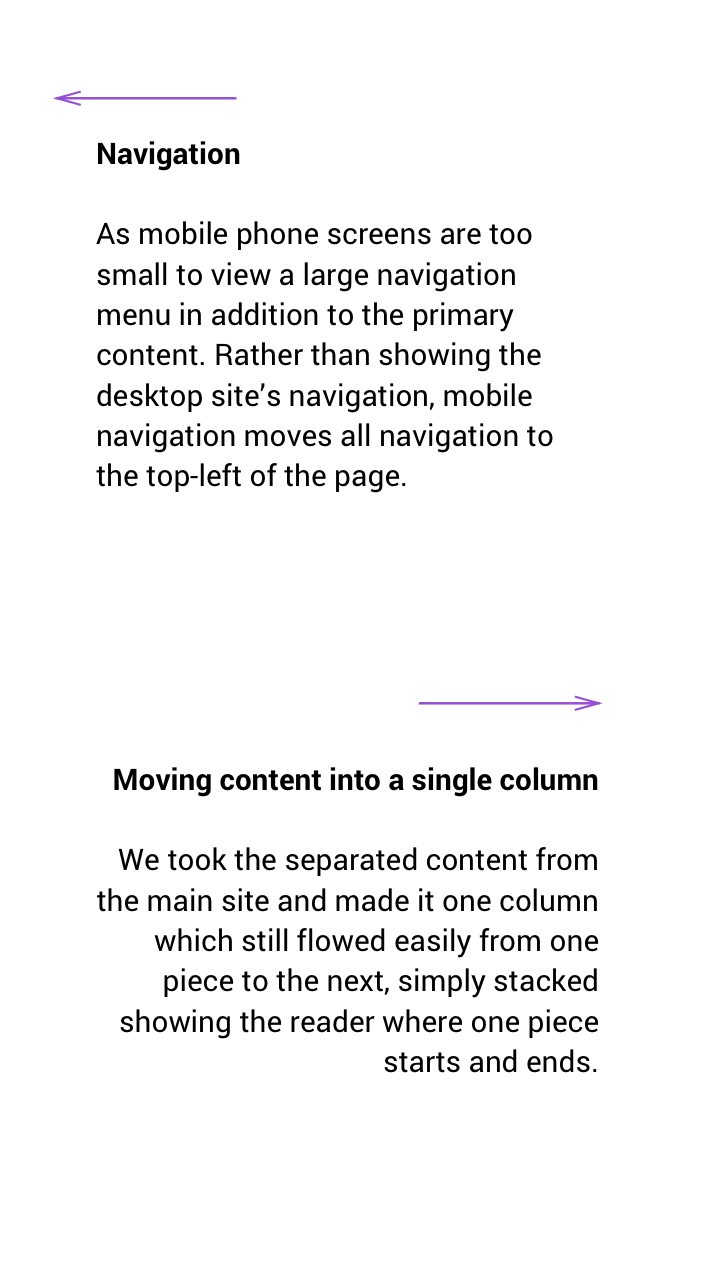 Functionality on mobile devices is extremely different 
Since we had a large content base with unique functionalities, we modifies the mobile site to be more user friendly. Thus, using a separate site was simply the most practical choice. As we had the option of sending completely separate HTML, JavaScript, and CSS to phones and PCs.
Target audience in India includes users on older or low-end phones 
With Google Analytics we found the data on which mobile device was the most popular used for our site (I-phone 5, 90% of users) and optimized our experience for that view. This is because the default browsers on some feature-phones do not support the same markup that you would use to code a website targeted at the desktop, but instead understand formats like XHTML-MP or the older WML.
KEY Takeaways
Pitching creative ideas to different departments and across national borders in a global company like Godrej were a true test of my adaptability. Few of the things I learnt along the way:
• 
Show and don't tell.
It helped to get buy ins and makes the advantages very clear
•
Development and project management teams
were only as good as the effort I put into communicating with them,
share the pain and the glory of things working or breaking
• 
Address audience needs in the presentation,
drawing people into how and where I took their feedback
•  Continuously educate the organization about design, upward and downward. If people don't have appreciation for design, it is mostly because they don't understand the role well.