MailChimp
 is the world's largest email marketing company, empowering business owners and marketers through data and design. My focus was to do
early stage design explorations and suggest design solutions that are feasible within the established design system.
Through extensive design thinking and iterations suggested by the team I delivered 
UX flows
created in Sketch, along with prototypes in InVision.
Summary 
Problem Space
Currently, each time users choose to create a new campaign they have to repeat a lot of branding tasks like  uploading their logo, manually entering brand colors and select fonts a-fresh. Mailchimp does not have nay mechanism currently help customer's store this information. Therefore customers waste valuable time uploading brand information for each new campaign, which also lead to brand inconsistency.
Goal 
Create a brand asset management system to make it easier for users to set up & edit their brand. Additionally, thinking about how brand automations will play into this in the future.
My Role
•  Deeply understood the perspective of the end user and Mailchimp
•  Narrow down the problem space to basic goals of the feature
•  Sketch and ideate opportunities (and risks) of different the functionalities
•  Created work-flow concepts in Sketch while incorporating iterations based on peer review
•  Proposed the final design solution as medium-fidelity prototype in InVision 
•  Detailed outcomes and iterations in a written design document for handover
•  Presented in weekly design reviews to gather feedback from design team, software engineers and PMs
•  Checkin and update update cross-functional teams
Duration
Summer Internship, June - July 2017 
USER RESEARCH
Understanding the customer and problem space:
•  Closely studied the research dossier (obviously)
•  Interview fellow designers working on similar features to borrow some of their perspectives
•  Personally interviewed the UX researcher & project manager who put together the research dossier 
•  Lastly, I spent a lot of time asking my design manager & mentors a lot of questions about their thoughts on the feature before I began the design process
I was aware that me having been there just two months would not be able to have the in-depth insight other designers who worked on the project for multiple years would have - so I tried to incorporate their suggestions as much as possible.
These were some of my learnings from research:
•  Mailchimp
customers are small business owners
sending a huge volume of email, usually playing multiple roles within the company.
•  Their
goal is to quickly grow businesses
and
drive e-commerce
, branding is not a priority but it's nice to have
•  Not saving brand info 
hinders brand consistency
and wastes time
•  Users expect a
standard practice of being able to access favorites
& recently used items in CMS
•  Some users don't really understand "brand" (they do this subconsciously )
•  Not having brand assets limits Mailchimp's ability to support timesaving automations! 
​​​​​​​

Mailchimp AUDIT
Elements that create a "brand" in Mailchimp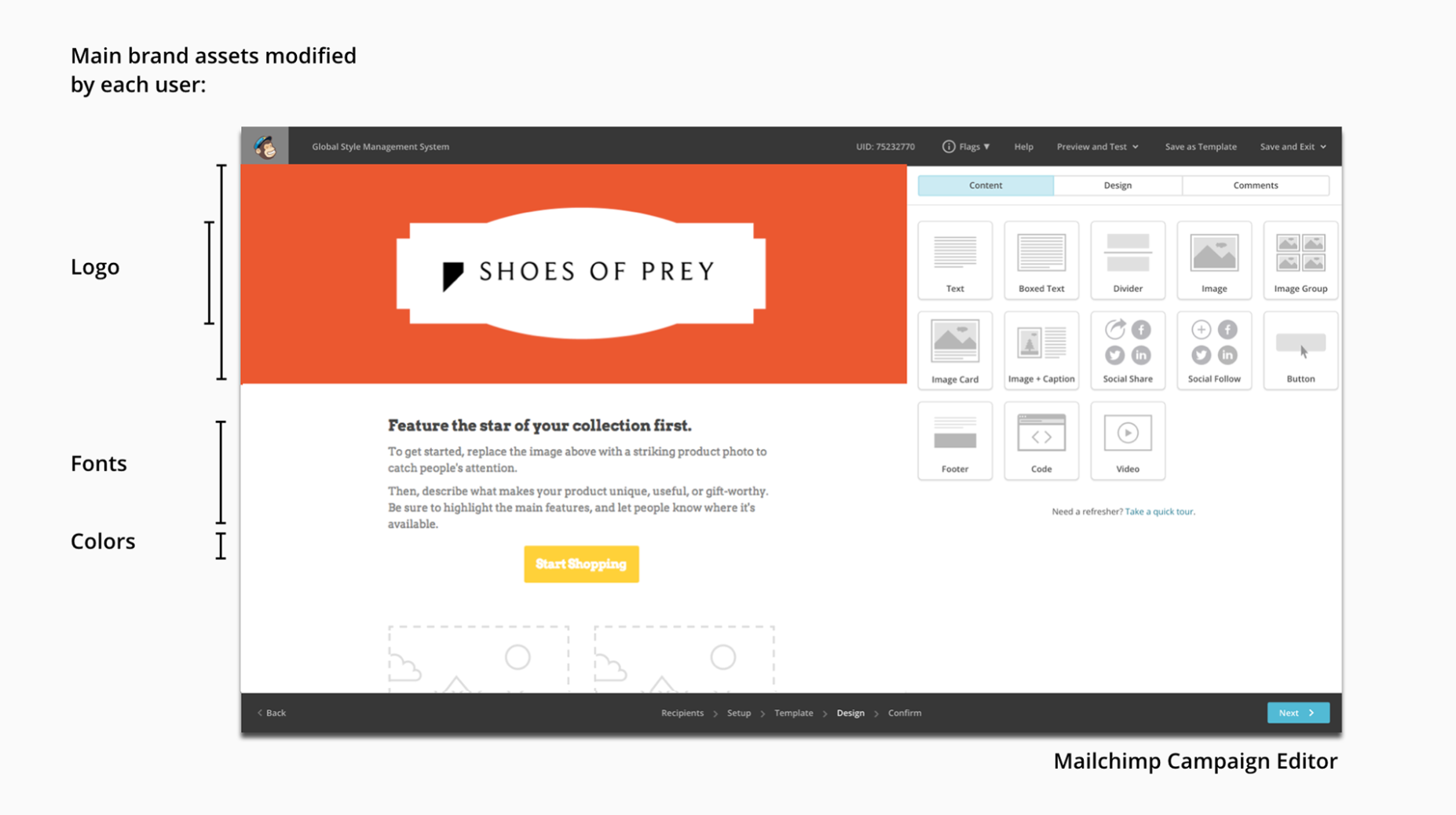 Establishing a design approach 

Because this was an early stage design exploration, there was a broad goal but no clear tasks outlines for me. After understanding the broader goal, and spending a fair amount of time with my project manager I was able to carve out two main questions that I would focus on figuring the answers to: 
Part 1 " Where in the application do the Brand Assets get stored?" 
Part 2 " How do we collect the brand information?"
Sketching and Iteration
Part1: Where does it make sense for customers to access the brand assets settings easily?
I began by sketching the experience. First, from the users perspective, of where they would assume this information could be stored like at account settings level or at the editor level. Then, from an experience design standpoint, it needed to be somewhere where customers could easily edit and preview the changes they were making to their brand.
Initial Sketches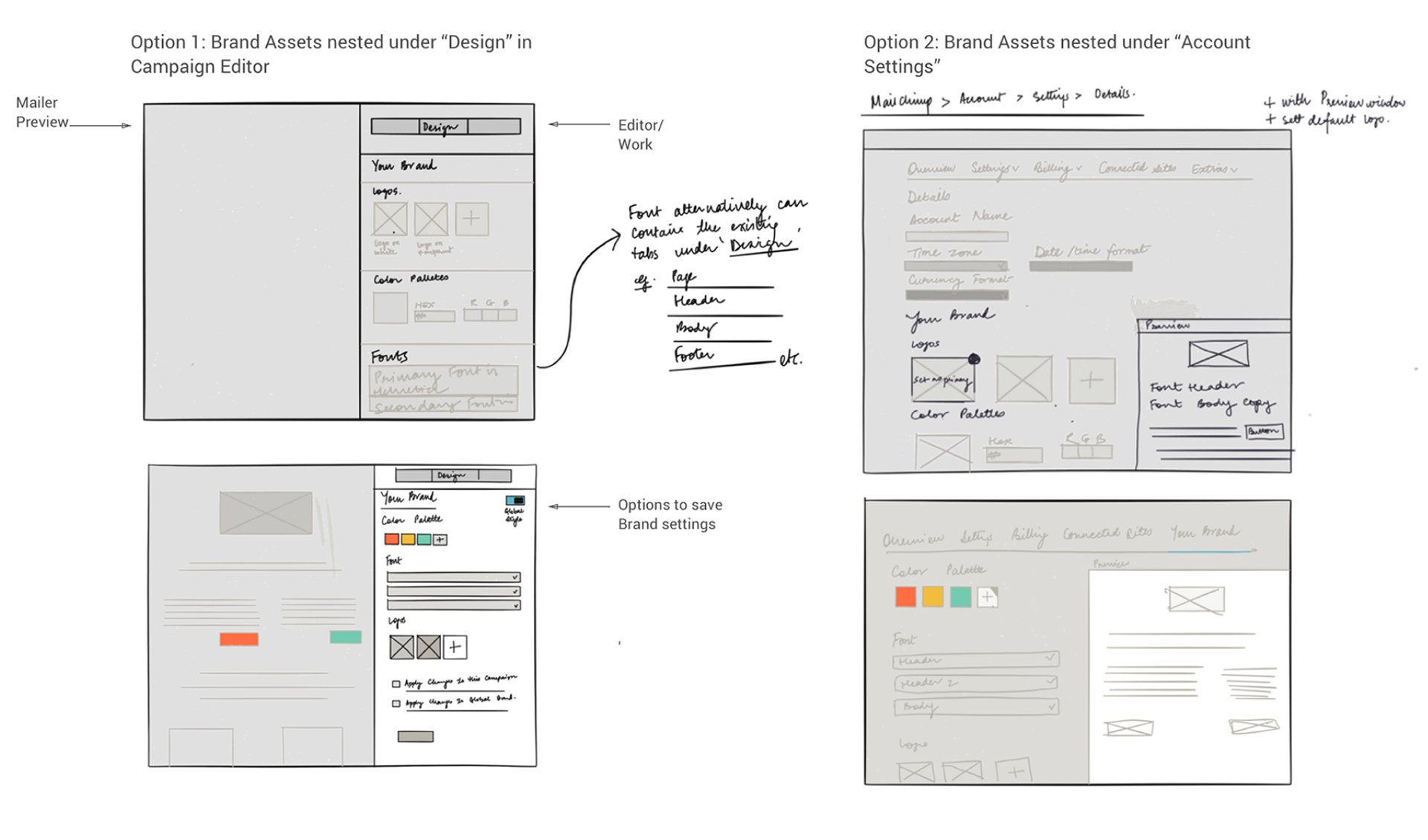 First couple of iterations
My initial thought at this stage was that the customer might expect to find all their "Brand Assets" in their account setting sections because it account settings contain brand information like website link, company name etc. that get applied automatically in autogenerated text for e-mailer footers and buttons. Although, my instinct to think like a user was right this was not the most effective solution.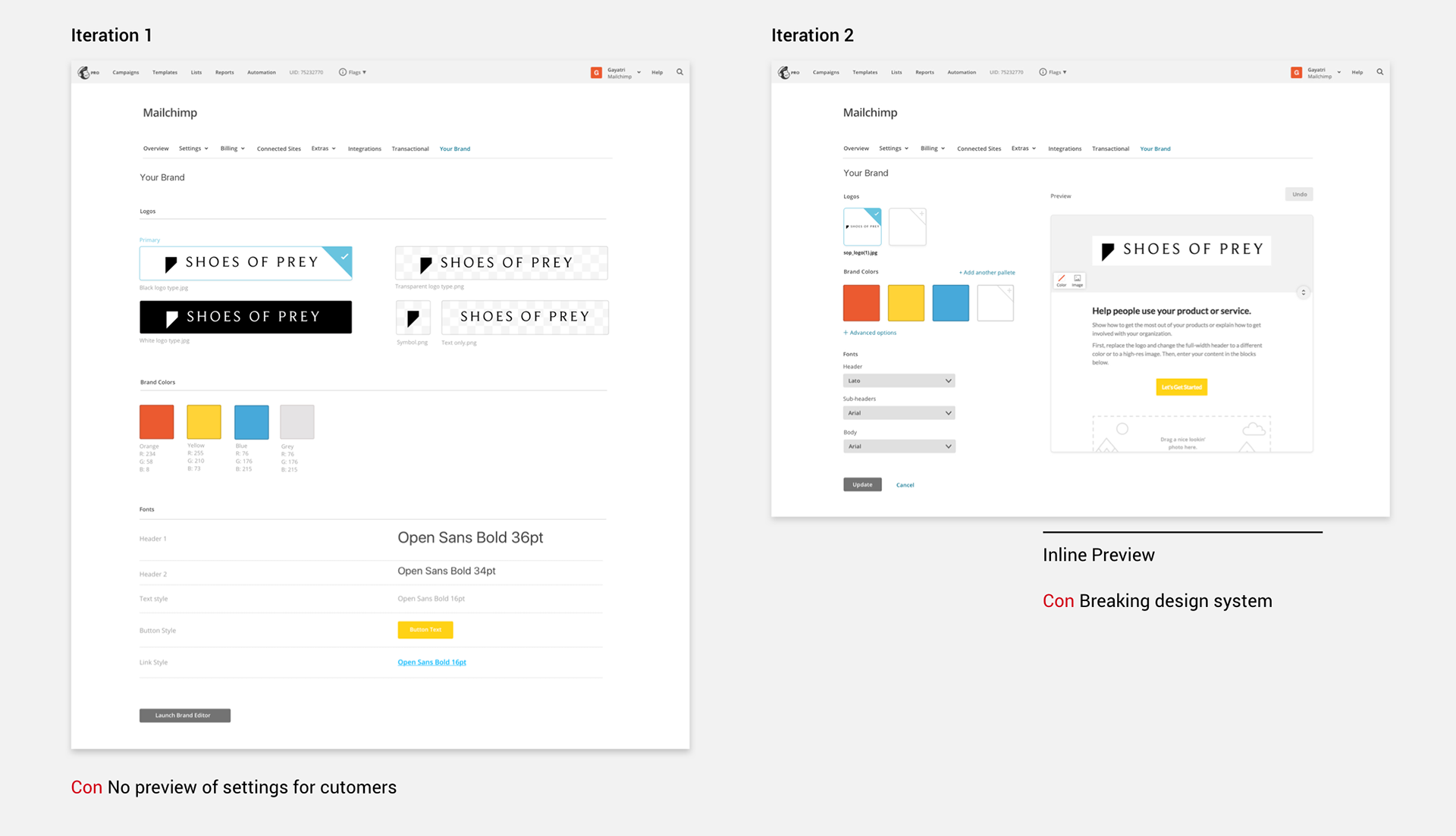 and why they didn't work...
• Customer needs to be able to visualize the brand asset settings
• "Your Account" is too far away from actual campaign editor,
to update files customer has to exit out of the campaign editor and go to a completely different section of the app
• Inline preview breaks the design system
• The editing functionality is too unfamiliar from the rest of the application.

Fixing the previous problem, finding new ones
The summary page inside "Your Brands"  is not ideal to make brand edits thus it was decided to use this page as just a summary and link out to a familiar workspace i.e the campaign editor to provide a preview and edit brand assets.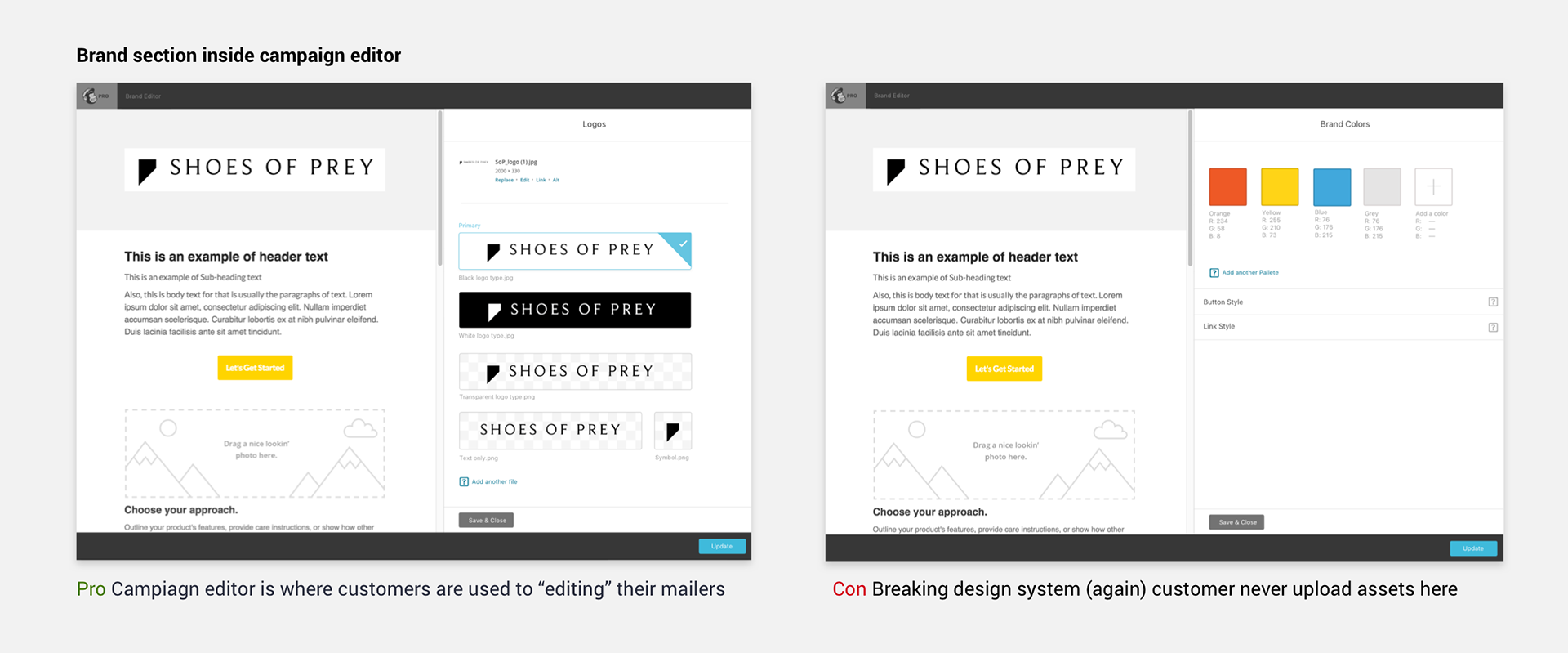 •  It's hard to differentiate the brand asset mode and campaign, looks too much like an actual campaign
•  Options are too nested for customers to find
•  Customers never upload information here - they upload information
in the content editor (aha! Moment)
PART 1: SOLUTION
Store Brand Assets in the Content Manager
• The Content Manager is accessible from within the campaign creation as-well as from the templates tab.
• Users are familiar with the functionality of content manager
• The preview for the colors and image are not derived from the pattern library, they have been purposely given a "bigger" preview because they provide a summary of decisions made my a user.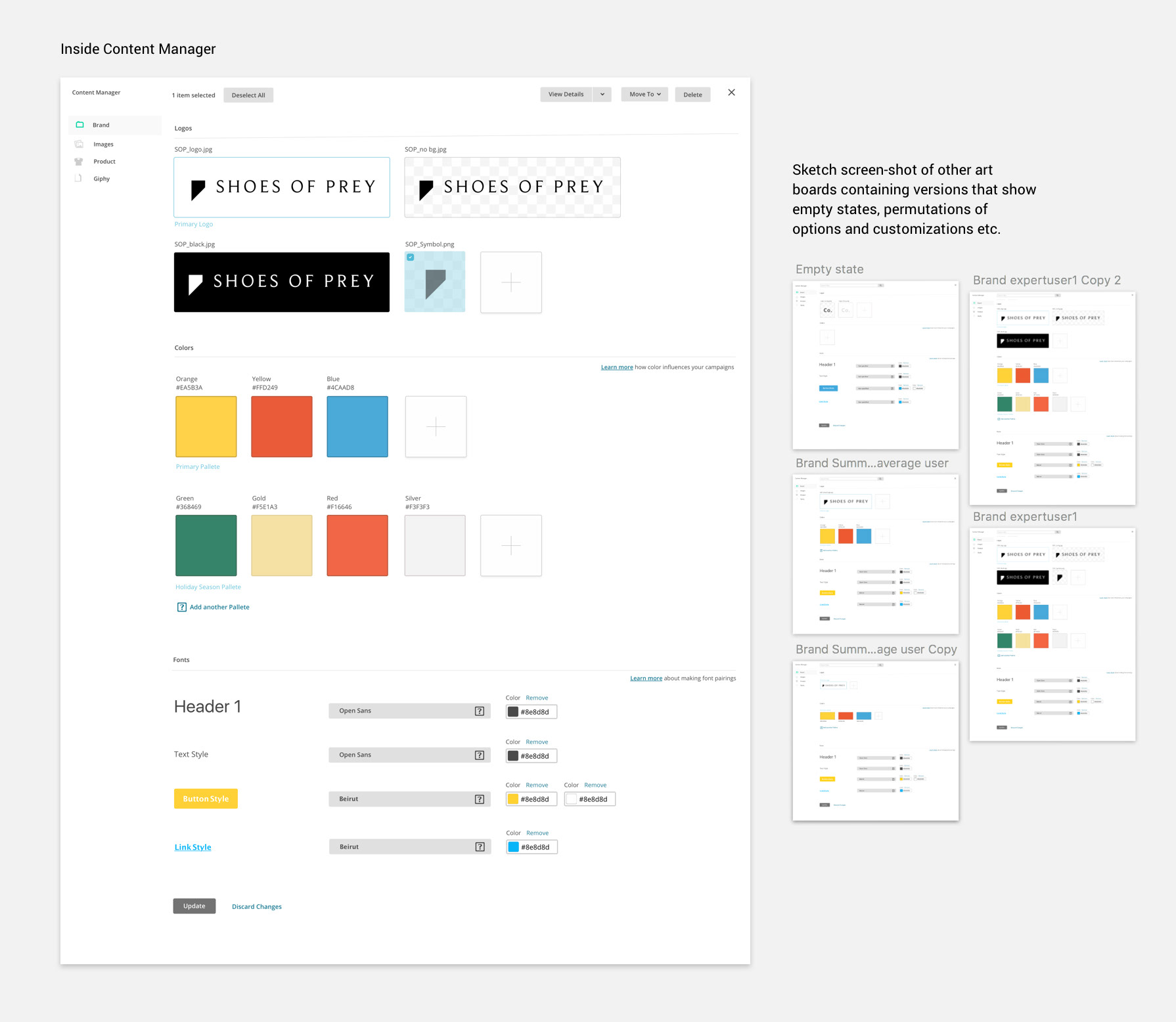 PROTOTYPE
Prototyped final interaction in InVision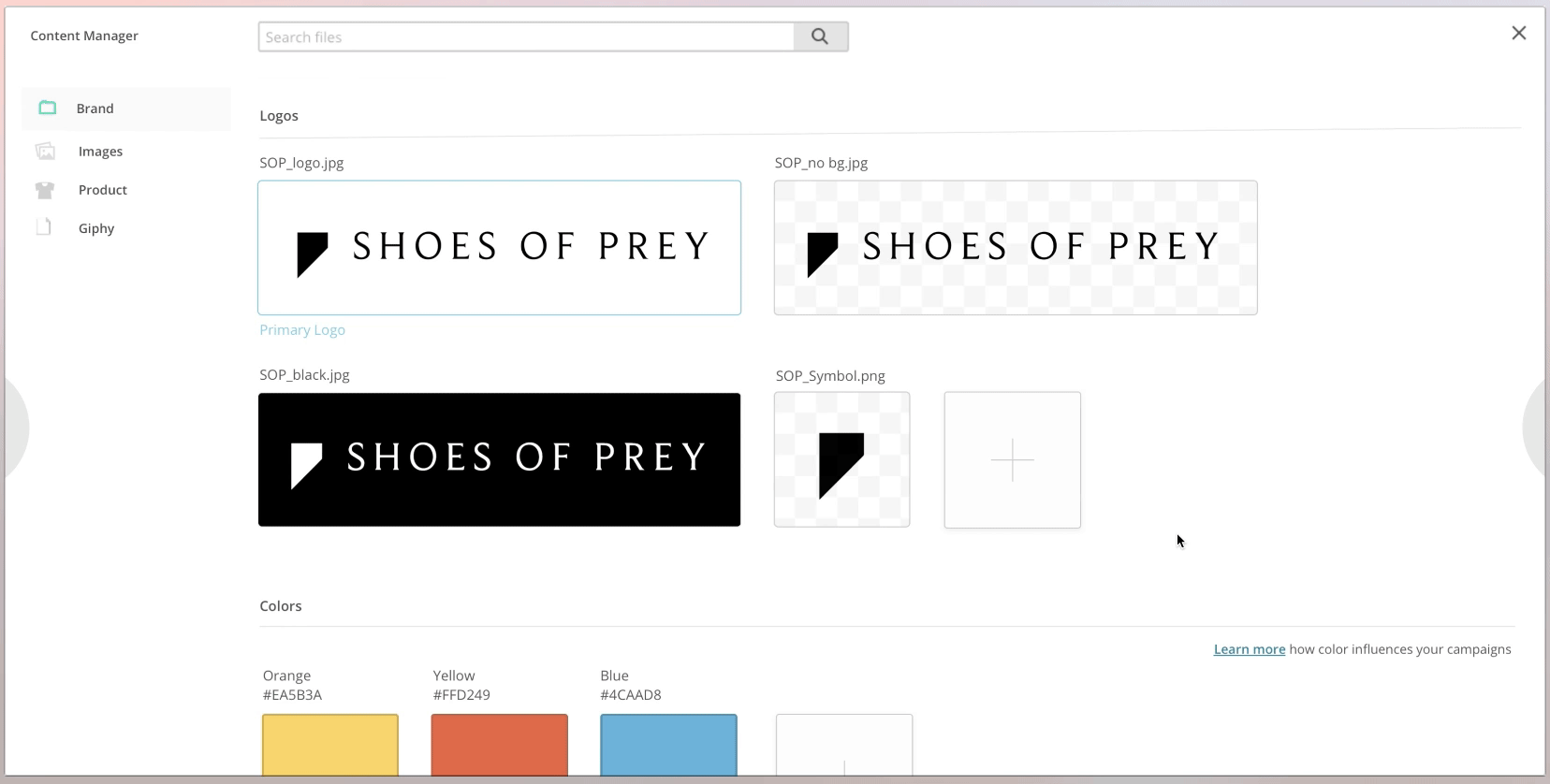 PART 2: Sketch and ITERATION
I arrived at the solutions for part 2 of the design solution fairly early on in the process as it was a natural part of the customers journey to import brand information when creating a new campaign:

Gathering brand information in context of campaign creation
The information is being collected in context of where it might be used. Making brand decisions can make users feel like they are being tasked with being an art director for their brand which can be intimidating, thus collecting information in the campaign making process and then representing it in a summary might make them realize that they are making brand decisions without realizing it.
Gathering Logo information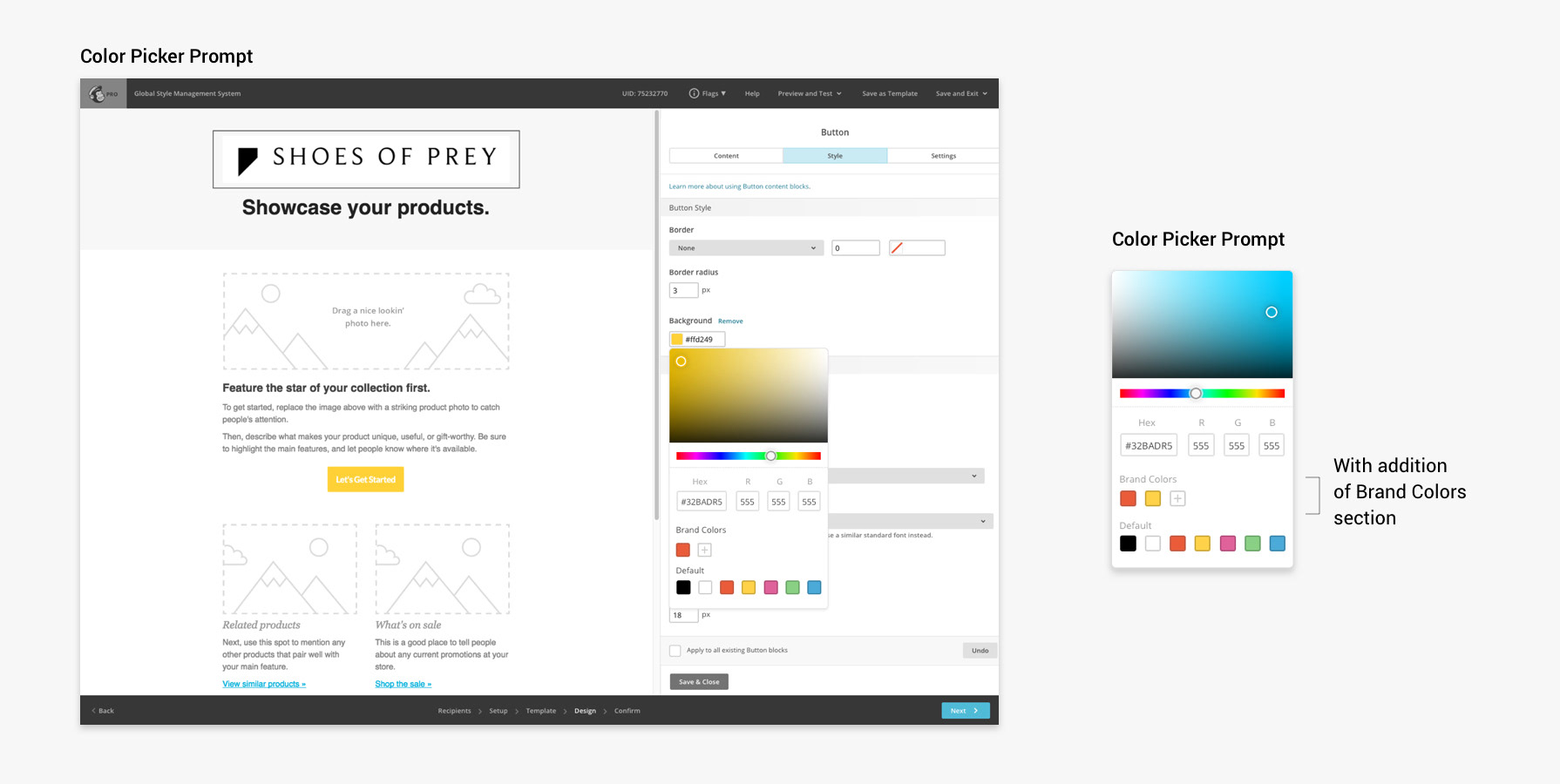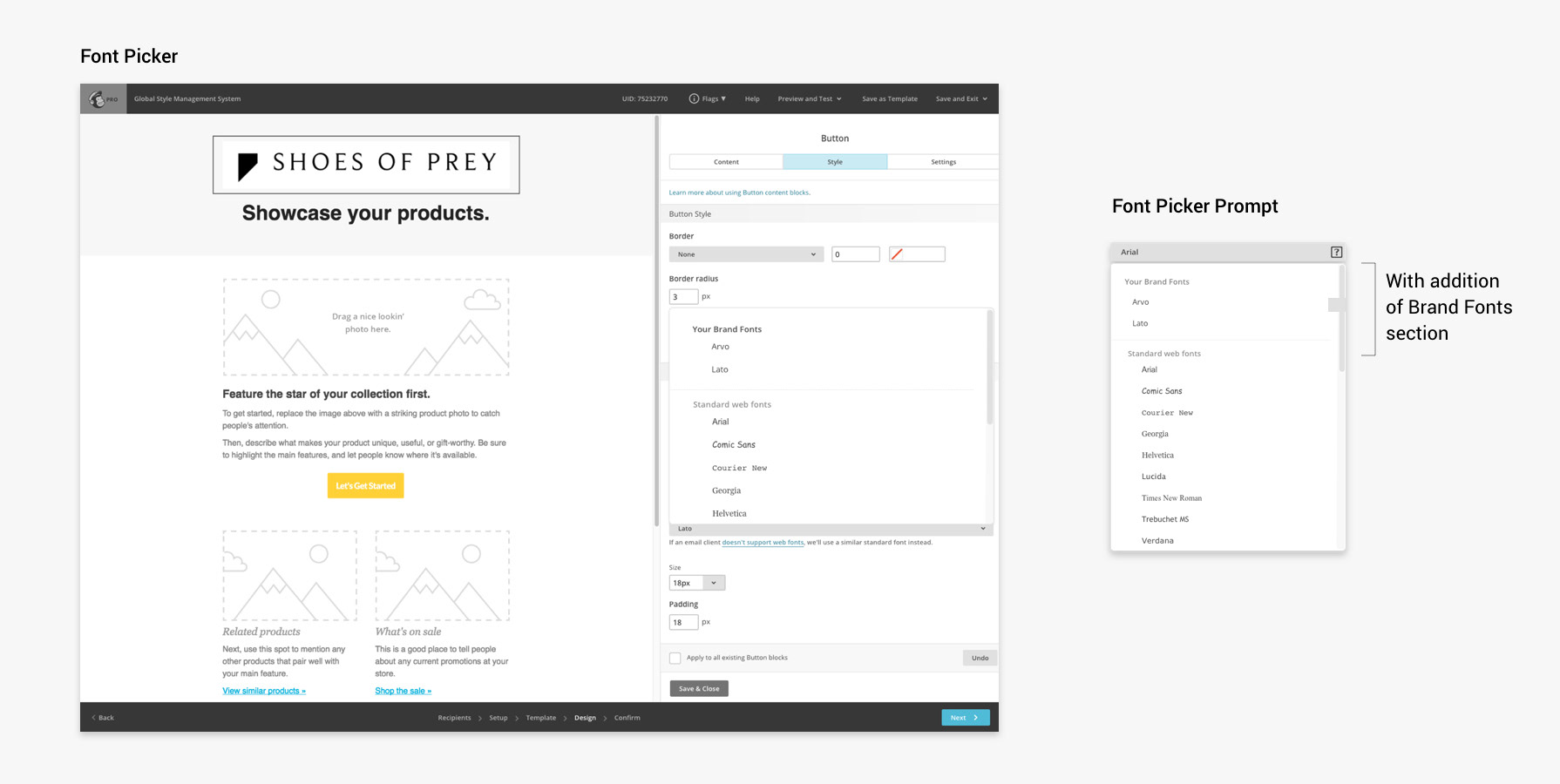 Prototype PART 2
The solution presented in an invision click through
These design were submitted as design document. Which contained all my design research and outlined my solutions with it's Pro's and Con's. I would love an opportunity to talk more about my process and design decisions.
Creating a mobile version 
As a personal goal, I created a Mobile version of my prototype 
At the end of my internship I had a couple of spare days after I had presented my final prototype to my peers at Mailchimp. I was curious about the process for designing for mobile - so I took guidance from the mobile design team and experimented with some layout options on my own.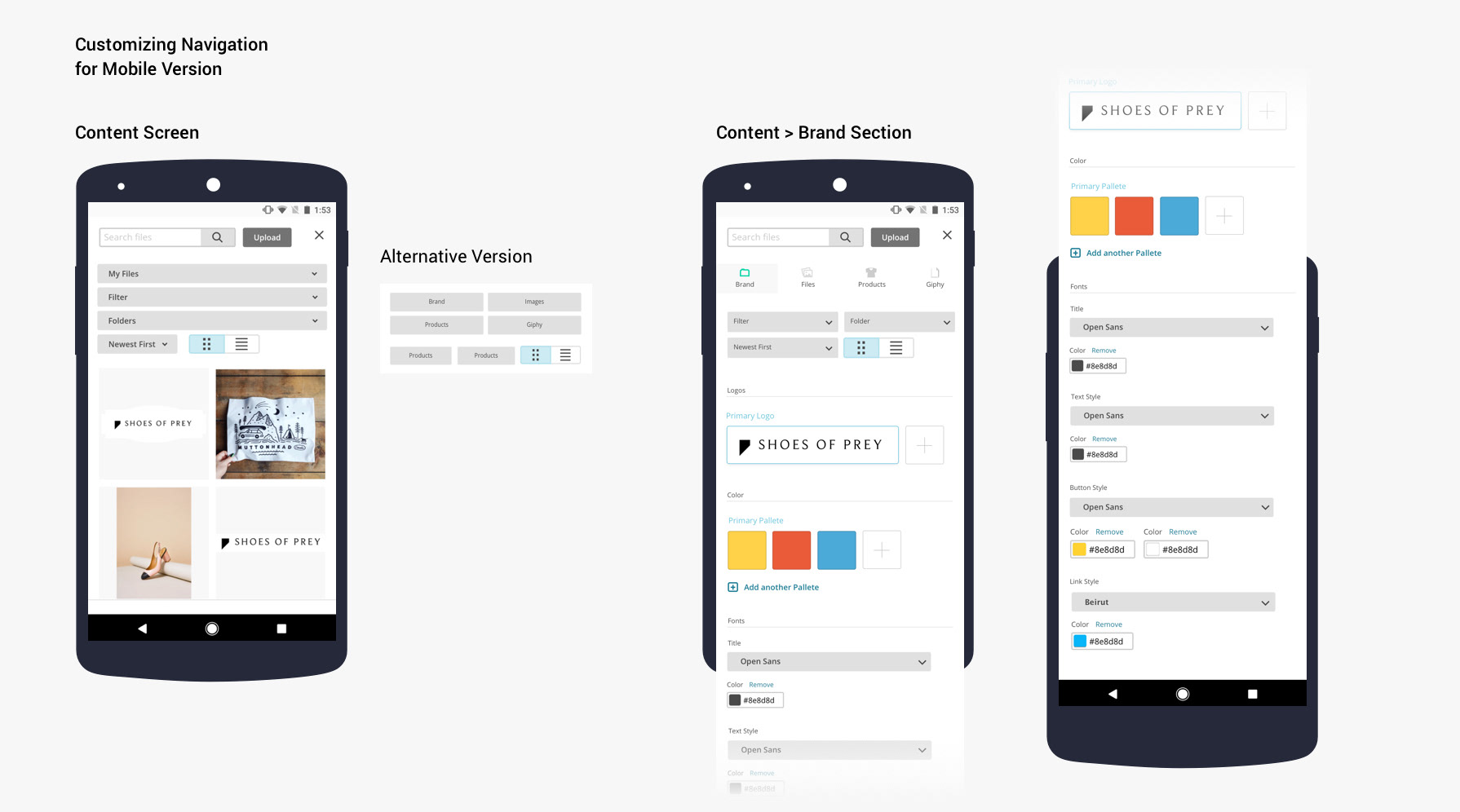 REFLECTION
What I learn't from Mailchimp about being a UX Designer
As a passionate and young UXer, through my internship I learned exactly how valuable to different perspectives can be in the design process — let's get real me being there for three months am not so easily be going to as familiar with the product as a designer who has spent multiple years working with the design system.
This list is a culmination of the important lessons I learned:
1. Design = (Planning + Strategy + Execution) x Iteration. 
2. Details are essential. Things like whitespace, padding, and consistency can make all the difference.
3. Present designs and sketches as often as possible and always record and reflect on feedback.
4. Take the time to understand the work flow of fellow designers, there are a lot of hidden gems there.
5. Ask for direction when you are stuck, all of us reach a saturation point and it's important to reach out for help.